Wednesday! May 19 2004 // 12:33 pm // permalink
with renewed vigor.
The Amateur Gourmet says Tomorrow is Carb Awareness Day
****
June Meyer's Authentic Hungarian Heirloom Recipe Index Page
A Cajun Family's Recipe Collection
A Boke of Gode Cookery, A compilation of medieval recipes from authentic sources adapted for the 21st century kitchen, along with diverse facts on food & feasting in the Middle Ages & Renaissance and other historical culinary items.

****
Pleading the First, a review of FREETHINKERS: A History of American Secularism "Her book rings with echoes from the lecture halls of 19th century America, where religious skepticism had its place alongside the causes of abolitionism, free love, women's suffrage and a shorter workday. [Via aldaily]
In the beginning was the wheel, a review of God: an itinerary "[The Bible] is the record, or product, of a people asking how the catastrophe of exile had overwhelmed them, and how to recover from it. As such, it has no more truth value than the account of the past presented in a divorce court. The Bible, he says, fabricates an origin in order to invent a destination." [Via aldaily]
Gods, Ghosts, & Ancestors: Folk Religion in a Taiwanese Village, an online book [Via plep]
"…a couple who were brought up in a religious environment who were simply unaware, after eight years of marriage, of the physical requirements necessary to procreate." [Via aldaily]
Breast baring, and Searching for early American erotica [Via aldaily]
Monday! May 10 2004 // 10:20 am // permalink
Project South St. // final
Sunday: finished the living room/dining room, and it looks incredible. Blue and orange curtains, hanging paper lanterns with lights that JD made (I'm still amazed) and an orange futon cover. We decided one of the walls still needs something, but that didn't get taken care of before I left. I'm sure he can figure that one out if it continues to bother him. For dinner I made panzanella and a small avocado/dried cranberry/chicken salad.
Monday: The kitchen is something approaching 6x6 and has no window. I removed all the cupboard doors, washed the walls and shelves, and organized the dishes and food in a more efficient way. It looks a lot bigger in there with the cupboard doors removed, and it's a going to be a lot easier to work in there without having doors hit you in the back of the head every time you turn around.
Monday night: German-speaking night. M, D (JD's brother) and his girlfriend C came by. Usually it's just the guys, and they speak only German for the entire night but they decided it wasn't working because they felt bad about C and me not being able to participate. I made dinner - portabello, roasted red pepper and feta angel hair, and another avocado/dried cranberry salad - after which C had to go to a work meeting so I did the dishes - slowly - so the guys would have an opportunity to do a little German speaking. When I finished I sat with them and listened, and was surprised at how well I could follow along without knowing a single German word. It helped that M is at a beginner level, so much of the conversations were teaching him new words or explaining concepts. It all happened in German, but charades are charades and I'm an intuitive cookie.
Tuesday: I finished a lot of the smaller projects I'd left in some of the rooms, and did some light cleaning of the office. I'd planned to move the office into the old closet, but the desk was just too big for me to move by myself. So now all of his papers and stuff are in the closet on the built-in shelves and his desk is still in the little room outside the kitchen. I think it will work this way until he can get the desk moved, though, because it didn't seem like any of the stuff I put on the shelves was used regularly. For dinner we made Chilean Sea Bass (oh the guilt! the guilt!), steamed asparagus and garlic couscous.

That's about it. I didn't want to leave. I really enjoyed what I was doing, and JD's company. I think I'll write another post this weekend about the experience as a whole.
The Long Meadow poetry by Vijay Seshadri
Philosophy Games [Via plep (and jpb a long time ago)]
Bush and the Lesser Evil [Via aldaily]
Porn and the novel [Via aldaily] semi-related: Obedience, fiction by Michelle Richmond
Sunday! May 09 2004 // 9:45 am // permalink
Project South St. // Day Five // Progress and goals
Friday: I finished most of the living room — rearranged, cleaned, moved plants in from other rooms — it looks great! I'm very happy about the results. I also finished the hall closet, and made a tool area in a small shelving unit. Later, I drank too much bourbon and got sick.
Saturday: We went to a lovely cafe for breakfast, and then went shopping. We got a poster for the living room to accompany the two existing posters. We also found some pretty paper lanterns that JD is going to build light fixtures for, and we'll hang them today. Other items purchased: new shower curtain rod, soap dish, bread knife, and a non-skid mat for the rug.
Today's goals: find curtains for living room and bedroom. Get hardware, etc. for the new lights. Buy lightbulbs. Other items: hamper, coat-hangers, futon cover, ash tray?
More later. Happy Mother's Day!
Friday! May 07 2004 // 9:16 am // permalink
Project South St. // Day Three // Cold? So very cold…
Cold! It is so vey cold here this morning! I'm going to have to borrow one of JD's coats to go get my coffee. Yesterday in my notebook I wrote a note to myself to ask JD about his coats — whether he wanted to keep all of them or get rid of a few. The note said "coats? so many coats…" But once we started talking about it, the truth came out about how many shoes I have and he turned it around on me, "shoes? so many shoes…"
My work went well yesterday, but there were some things I had to leave for today. I got a very late start yesterday so I'm trying to blame it on that. Today I'm up and about to leave for coffee (and maybe a pastry!) and feeling very motivated. I think seeing a very clean and organized closet when I woke up today made me feel good about the work I'm doing.
Last night I made seared Tilapia with basil-caraway butter. I've made it before for my family, and this time it turned out a little better since I didn't destroy the fish durning the searing process. The original recipe was for chile-lime butter, but some people in my family aren't friendly with chiles so I altered the recipe with yummy results. When we were at the store buying the caraway, JD asked me what chervil is, and you'll all be happy to know that I knew exactly what it was and sounded very knowledgeable. "Uh, chervil is kind of like parsley?"
After dinner we walked to the coolest coffee house I've ever been to, where they were playing the new Modest Mouse record at a surprising volume for a coffee house. The coffee was even the best I've had in a while. Well, since the last time we went to that coffee house when I was in town before. I wish I could remember how to get there because I'd love to go there for my morning coffee.
Today's goals:
-clean out front hall closet, wash walls, etc.
-transfer coats and suits
-sort piles of papers, magazines, etc.
-find the courage to look for a door that will fit the new closet (scary basement!!!)
Thursday! May 06 2004 // 10:06 am // permalink
Project South St. // Day Two // Progress and goals
Late start today…but it was a draining one yesterday. The bathroom is sparkling, save the tub. The tub isn't clean yet because I soaked all the blinds in there for a few hours yesterday. I was able to scrub and re-hang four of seven sets, and the other three will be done soon. Cleaning blinds is one of those things you only remember is hellish AFTER you get the blinds down and into the tub and tangled around your neck cutting your air supply. While they're hanging it's all, "I should clean the blinds, it will be a snap!"
Along with the blinds, and the bathroom, I washed nearly every piece of clothing in the house, and made dinner. i made Cellentani with asparagus, smoked salmon and dill. Notes for next time: forget the lemon zest, add some sauteed peel. And more dill.
The one thing that didn't get done, or started, yesterday is the returnables. I think I may even wait until tomorrow to do that, or start taking them in batches today.
Today's goals (after a trip to the coffee shop):
-Clean out chest of drawers, and clean the walls, etc. in the new closet
-hang hooks
-move clothes to new closet area
-Clean old closet and bedroom
-find new home for stuff in drawers
-Clean out hall closet, sort contents
leftovers:
-finish blinds
time permitting:
-start on living room
-take back bottles
Wednesday! May 05 2004 // 10:20 am // permalink
Project South St. // Day One // goals
Enough screwing around (I went to get coffee)(and I may have been distracted by all the tulips). These are today's goals:
First thing's first:
-Clean bathroom; easy (half-way done already earlier this morning)
-Laundry; easy, time consuming (I also started this before leaving for coffee)
-Problem solving: where's the best place to put all the clothes?
-Start organization/cleaning of chest of drawers — possible place to put clothes
Later:
-Take bottles back; seems simple enough, right? Think again. There are probably $50 worth in returnables around here. This will be a two-man job.
if there's time:
-measure windows for curtains, etc.
Tuesday! May 04 2004 // 3:31 pm // permalink
mail!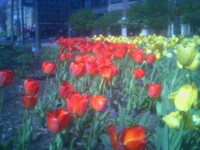 I got a package in the mail yesterday from JPB and in it was a copy of Songs 2002! Rememer how I lost it about a month after I received it? Yahoo! There were many other goodies there. The box itself was my old 'cut ups' box (where I keep little scraps of nonsense cut from magazines and books) that I left at his house a loooong time ago at a letter writing party. He threw in some copies of The Sun, a publication we both like bunches, and some old books I'd loaned him the first time we met in person.
One of the books he'd borrowed was The Man Who Tasted Shapes, a book about synesthesia. I've always been terribly interested in synesthesia, as I've always suspected I have the condition. The other book was Wisconsin Death Trip, one of my favorite books. I'm going to bring it with me on the train to K-zoo today.
Speaking of K-zoo, I am almost ready to go organize JD's apartment. I have lots of work to do, so wish me luck. I'll try to update while I'm there. I think it will be interesting to document the overhaul process. Maybe I can even give you all a few pointers.